Overview
The Ksplice Offline Client removes the requirement for a server on your intranet to have a direct connection to the Oracle Uptrack server. All available Ksplice updates for each supported kernel version are bundled into an RPM that is specific to that version, and this package is updated every time that a new Ksplice patch becomes available for the kernel.
The Oracle Ksplice Offline Client puts control of how updates are transferred and installed on your systems into your hands.
Getting Updates
Oracle provides Ksplice updates in two ways: the normal online updates and using the Ksplice Offline Client.
Normal Online Updates
This is our standard method of providing udates to customers. Systems connect to our Ksplice servers at Oracle and download necessary updates for your kernel.
Pros

This method is tried and true. We have applied millions of patches on systems using this mechanism.

Cons

Systems to be updated must have an internet connection to the Oracle Ksplice servers.
Offline Client
Oracle allows the Unbreakable Linux Network Yum repositories to be cloned to make internal deployments easier and faster. Ksplice has included packages that include Ksplice Updates, allowing you to mirror kernel patches as they become avaialble.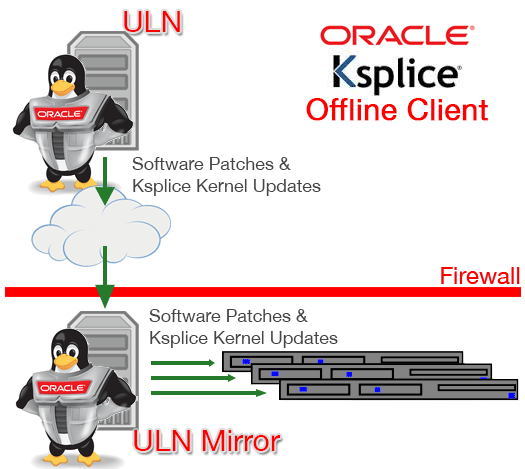 Pros

You can provide updates to systems that are not connected to the internet. Further, you maintain control of which patches are made available to your systems.

Cons

The overhead of managing systems falls on you, adding aother task to generally overloaded plates.
More Information
For more information on setting up a local Yum repository, follow the steps outlined in How to create a local Unbreakable Linux Network mirror.
A high-level overview of the interaction between Ksplice updates and a local Yum mirror can be found by reading Wim Coekaerts' blog post at New features in Ksplice tools for Oracle Linux.
Finally, documentation on installing and using the local Yum repository for providing Ksplice updates can be found in Oracle's documentation site.